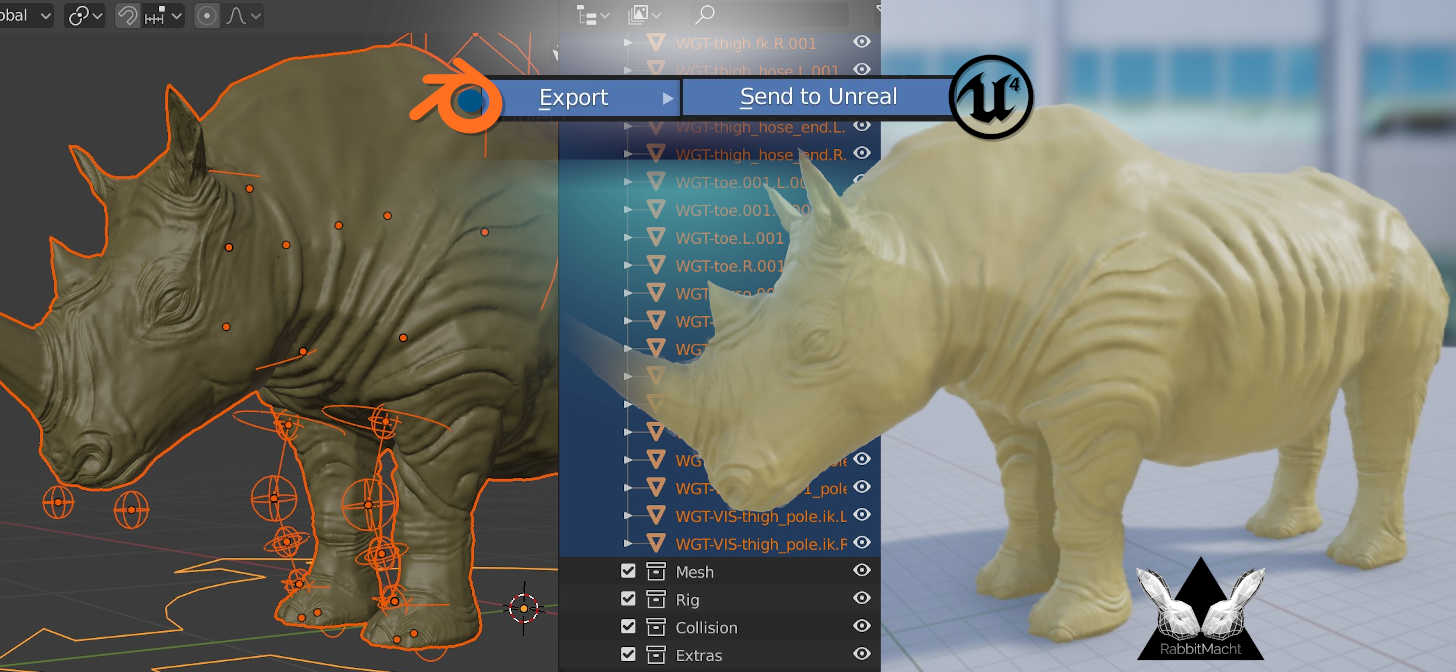 Throughout the game development process, you will need to work with assets that have been generated outside of Unreal. It stands to reason that if you are using Unreal Engine for your game that you would likely want to utilize it's flagship 3D rendering capabilities. As such, working with a 3D Content Creation suite like Blender will form an integral part of realizing your game.
However, the transferal of digital assets from Blender to Unreal might not be as straight forward as you had hoped. In fact, the reality is that this need not be the case any longer. In the past year or so leaps and bounds have been made in getting these two software environments to communicate almost seamlessly with each other.
And FBX for all…
Although the FBX file format alludes towards digital justice, if you have been using the file format since about the mid-20-teens you'll be well aware of its idiosyncrasies which prompted the advent of wide-ranging support for other file formats within Blender with regards to the interchanging of digital assets. As such, you might have experimented with Collada (.dae), 3D Studio (.3DS), Wavefront Object (.obj) to name a few newer and older options but of course, all of these interchange formats have their pros and cons. Where you might win with one feature, another feature could be compromised in that particular file format. The result of this being that there would typically always be some degree of editing required within the target environment in order to get the asset to match the source.
That's not to say that the FBX format is a one-stop solution for all of these issues, however, we can be assured with more certainty that in interchanging data between Blender and Unreal that our outcomes are more predictable. A considerable amount of work has been dedicated to getting the FBX file format to work from Blender. A commendable effort, particularly given that the file format is owned by Autodesk and their documentation on the subject has, in some instances, been somewhat scarce.
In this post, we are going to utilize a Blender Add-on that is currently in development at Epic Games that automates the export/import process required for the interchange of 3D digital assets between Blender and Unreal.
Welcome Send To Unreal
The name of the Add-on is Send To Unreal and you can access its GitHub repository at the following address, https://github.com/epicgames/blendertools
As previously mentioned you will need to first link your GitHub account to the Epic Games GitHub account. If you are unfamiliar with this process you can read more about it in a previous post.
Without making this connection between accounts you will not be able to access the GitHub repository for the Add-on.
Alternatively, if you just want to test the addon you can download version 1.4.13 here
As noted though, this version will likely become outdated quickly as the Add-on is heavily under active development and you will benefit a great deal more from using the latest version of the addon. Therefore it's recommended that you follow the steps for linking your GitHub account to the Epic Games developers GitHub community before continuing.
Installing the Add-on
Configuration for Blender and Unreal
Live Export/Import