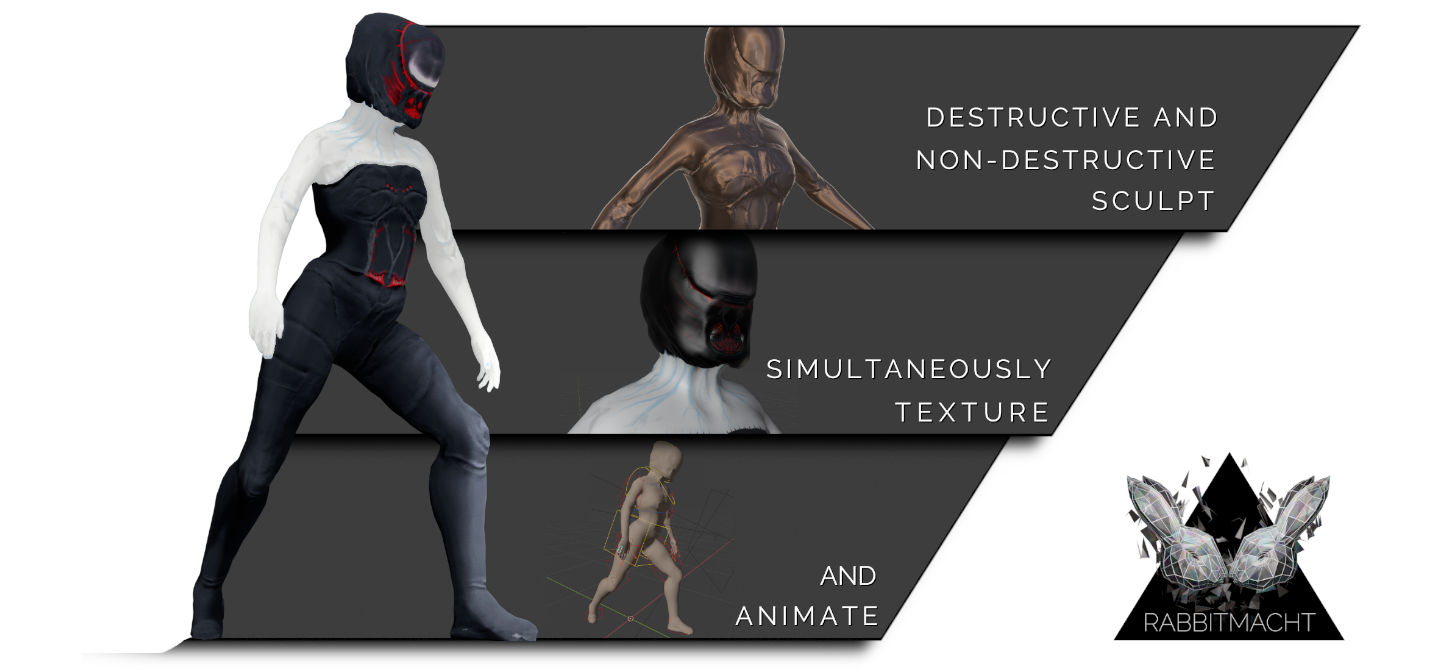 When developing 3D characters it's important to retain as much of a non-destructive workflow as possible.
This is particularly important with regards to games development as the models used in the final output will often have certain elements baked into texture maps.
Without a non-destructive workflow, modifying a baked a texture map or rebuilding components of your character might be your only option when making changes to your final output becomes necessary. It can be particularly difficult to achieve your desired results as it requires a very indirect approach to editing, thereby compromising on control, detail and taking up more time than necessary.
---
A non-destructive workflow means retaining as much of the character's creation history as possible. This means that reverting to different stages in your character's creation process becomes a lot more accessible. You can then make the changes where necessary (be it at the modelling, texturing, sculpting, rigging or other stages) and automatically allow those changes to propagate throughout your character's production pipeline.
Although setting up characters in this way might require a bit more planning, initially, once you get into the hang of it and start seeing the benefits of how much time it can save you in the long-run the technique will soon become a necessity in your character development toolkit.
Setting up a reference
Starting with references is typically advisable. They could either be 2D images or, as in this case, we are using a 3D model of a wraith-like-character.
With the reference model selected simply,
Go into Edit mode,
Select a single vertex from the model's component you want to delete.
Hovering over the 3D Viewport, hit L on the keyboard
and Blender will select all connected vertices.
This makes deleting whole portions of the model much easier.
The MakeHuman model is then exported as an OBJ file and imported into Blender. The OBJ file format has the added bonus of retaining a model's UV layout.
Modelling The Base Mesh
Once the reference is completed it's time to shift our focus to the main model (Base Mesh). We'll start with modelling as this is the only stage in the character's pipeline with destructive properties.
Regardless of whether your character is being exported for a game or not, working with efficient geometry that is less taxing on system resources is generally advisable.
Your completed Base Mesh, at this stage, should not comprise of non-manifold geometry and have as few UV islands as possible. By retaining and leveraging on the MakeHuman model's topology and already existing UV layout you will be able to save yourself a great deal of time and effort.
Blender's Shrinkwrap modifier is used to match the vertex positions of the selected object to the shape of the targeted object, by displacement.
A Rig is not a tool that is exclusively reserved for animation
Destructive and Non-destructive Sculpting
Sculpting is an important part of the character development process as it provisions a stage to add necessary details to your model and bring your artworks to life.
It's important not to use a destructive sculpting technique on the Base Mesh so as to retain the UV's and vertex groups that would have resulted from UV projecting and rigging (in previous steps).
Baking A Normal Map
In order to keep your character's poly count to a reasonable amount, a Normal map will be required to recreate the details, applied through Dyntopo sculpting, within the game engine.
Retain all the components that went into this setup and you will have a non-destructive approach to sculpting and generating a Normal map for your character at any stage in it's production pipeline.
Painting a Color Map
It is often desirable to work simultaneously on a Color map and Normal map for many different types of game and other character types. As one map will influence the other, retaining a non-destructive workflow can provide the most effective solution to this challenge.
Hide the Base Mesh
Select the duplicate
Enter Sculpt mode
Sculpt the duplicate
Add a Shrinkwrap to the Base Mesh
Apply the Shrinkwrap at the highest resolution
Use cycles to bake a normal map
Paint some more.
Exporting to Unreal
While working on your character it's advisable not to wait until you have completed the character to test it within the game engine. By using Epic's SendToUnreal plugin, not only can you easily add your character to your game but also adjust and modify the character within Blender and see the results instantaneously in the engine.
The character is readily available within the game environment with the added benefit that we can modify the character as above, and see the changes in the game engine update instantaneously.
Diagram Illustrating Non-destructive Workflow for Character Development