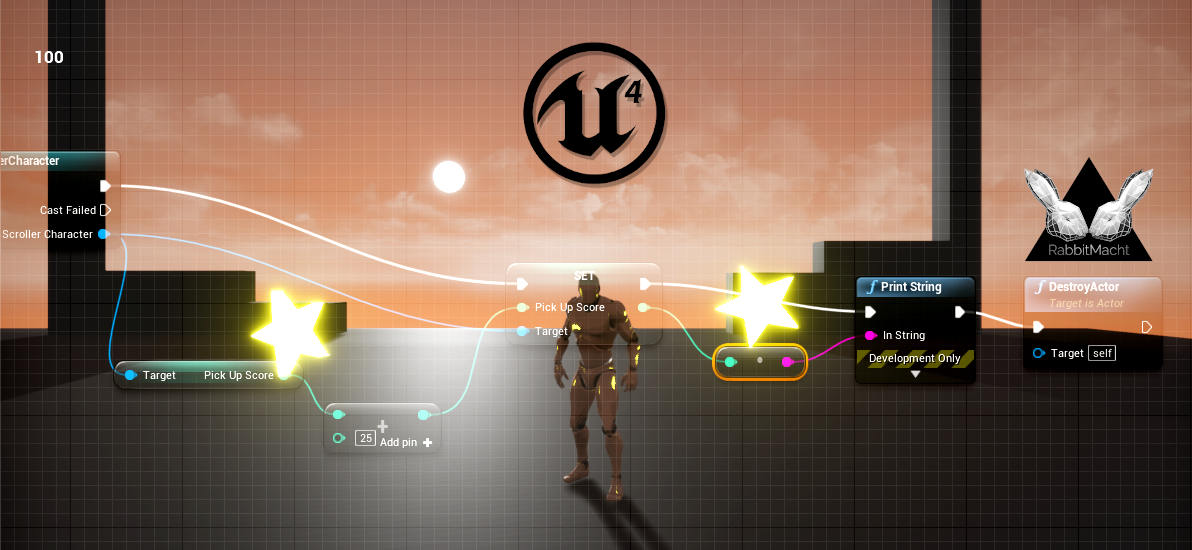 If you've ever wanted to make your own 3D game but felt overwhelmed by the prospect of having to learn how to code the complexity of an interactive game system, then learning how to use Unreal Engine's Blueprints system might be the solution you're looking for.
For many decades the C++ programming language has been a particularly favoured choice in games development. The language is considered to be a mid-level programming language, as such developers benefit from very readable language syntax, scalable and maintainable paradigms and other high-level programming language constructs. At the same time, developers have direct access to manipulating system resources via memory management, which is something that is typically reserved only for low-level programming languages these days.
The aforementioned reasons coupled with the ability to develop simple to complex infrastructures makes C++ an easy choice when it comes to developing systems that require media management, AI (Artificial Intelligence), physics and rendering engines to mention a few of the requirements within games development.
However, for some time several visually-based code-creation and editing-systems have appeared in the light of attempting to abstract the complexity relating to developing these interactive systems. This is particularly relevant for artists and content creators that are perhaps not as concerned with the kudos acquired from tweaking a function to get a nanosecond of a performance boost or even perhaps developers that wish to prototype an idea quickly.
That's not to say that these are the specific use cases for learning Unreal Engine's Blueprints, in fact as we will learn Blueprints have wide-ranging capabilities, that make the system a comprehensive choice in developing many different types of games as well as providing the ability to extend a game system with C++, when necessary.
Blueprints and C++ in Context
In order to add interactivity to your game, some form of coding is required. Whether you create that code by hand or use a system that does it for you, code is necessary to drive the interactions between game elements which result in meaningful outcomes. Bearing this in mind, regardless of whether you are an artist developing assets and using a node-based editor to generate your scripts or a developer looking to achieve results quickly, having a top-level overview of some basic coding concepts and how they apply to Blueprints will certainly go a long way towards a greater understanding of what makes your game work. Ultimately, this can also go a long way towards fixing problems within your games when they don't work as you were expecting.
When starting a new project within the UE4 editor you have the option of choosing a Blueprints or C++ based project. In fact, Blueprints are a visual representation of the underlying C++ code that drives the logic of your UE4 game. The reality is that you do not need to settle on one, at the expense of not being able to use the other. Many games use both C++ and Blueprints quite effectively, together.
So when would you use Blueprints and when would you use C++? You can develop an entire game only using Blueprints, as it is a very robust and extensive platform for visual scripting, you can, therefore, expect that some level of commitment is required to utilize it efficiently. C++ is often used to create game elements that act as building blocks for your game and as you might gather from the term "building block" these elements provide core functionality or statefulness that is referenced with some degree of regularity. It is also not uncommon that aspects of these C++ game elements will be exposed within the UE4 Editor through a Blueprint interface, thereby providing content creators or non-programmers access to core game elements by means of a visual scripting language.
Game Outcomes with Blueprints
Our objectives for this phase of developing our game are quite simple as the main outcome remains focussed on a basic introduction to the Blueprints visual scripting system in order to add interactivity to elements within our game. We will continue from our previous post on developing the StarPickUp asset, the outcome from the perspective of the player is that when the character passes through the StarPickup it should disappear. At this point int time, a relevant value is added to the player's score and this is reflected on the screen, during gameplay. At present, when the player attempts to pass through the Star pickup they are prevented from doing so. This is the default behaviour of UE4, that being the StarPickUp Actor has an invisible collision box surrounding it which is preventing the player (Pawn) from passing through it.
Our process for adding the required interactivity follows,
Detect if the Pawn is colliding with the Star Pickup Actor
If so, add a corresponding value to the Pawn's Score
Destroy the Star Pickup Actor
Update and display the Player's score
Transferrable Knowledge in Working with Blueprints
There are various types of Blueprints that we can create but a Blueprint Class (also simply referred to as a Blueprint) will be the most common we will use throughout this series and for many other game projects. If you are familiar with the Object-Oriented programming paradigm the term class is used very much in the same context.
You can think of the class that we are currently working on as something that retains all that is necessary in describing how the pickup will eventually work in the game world. Once we have completed work on our class and we are ready to use it in our game, we will drag copies of it into the 3D viewport from the Content Browser. In fact, the objects (or Actors) that we place in the 3D viewport can also be referred to as instances rather than copies. They are instances because they inherit all of their meaningfulness, and whatever is required to make them work as expected from the class that we designed and any changes we make to the class will be reflected in all of its instances.
Depending on how you design your class, the instances of the class can have various different properties for example each StarPickUp that is instantiated from the class will have a different position. You could even design them to have different colors or different values equating to higher or lower scores when the Player passes through them. So although they all come from the same class, their purpose within the gameworld might differentiate.
As you can imagine, bearing this in mind, the visual scripting language's namesake, Blueprint, is no coincidence. When we create classes we are effectively creating blueprints that describe how the objects that we use within the game world will work and interact with other game elements.
If this concept is somewhat difficult to grasp you could think about it in the context of a blueprint for a building. The blueprint contains all of the necessary information for creating the building, however, the blueprint itself is not something you could live in. It's simply there to describe the possible outcomes. When you create a building from the blueprint, that becomes the useful object, in the same way, that we instantiate Actors from the blueprint class in UE4 and place them in the game world. However, it's also worth remembering that not all objects are necessarily equal. For example, using the same blueprint one building could be used as a home while another could be used as an office.
Although C++ did not have the first implementation of Object-oriented programming, the language certainly has done a lot to popularize the programming paradigm as we see many different high level languages supporting it. You certainly don't need to understand Object-Oriented Programming (OOP) to work with Blueprints, but if you ever wish to take things a little further by integrating your blueprints with custom C++ a basic understanding of OOP can certainly go a long way.
Collission Detection and Reaction Setup
Understanding Nodes
Nodes provide the core visualization of data that forms the scripted element of a game. They can be made up of various types of data, perform various functions and can be used to construct countless programmatic statements. In Unreal Editor you would typically access Nodes for creating and modifying Blueprints through the Graph Editor within a tab such as the Event Graph (which we are currently using) or the Construction Script.
The Graph Editor (within the Blueprint Editor) is used to edit the Nodes that form the currently selected element's Event Graph. The Event Graph is a node-based visualization of the code that will typically be executed for the currently selected element. For example, when gameplay begins the Nodes within the Event Graph will be executed for the StarPickUp Actor, thereby defining that Actor's interactivity within the game world. How the Nodes are executed, will depend on how you have constructed the graph.
Constructing an asset's Event Graph can be very straight forward or exceptionally complex however there remains some basic features of the Event Graph that are consistent across simple to complex systems.
The Event Graph for an asset consists of Nodes
Nodes are typically connected to each other
How Nodes are connected to each other will depend on what you are hoping to achieve but again there are some very basic rules that apply across all systems and thereby make it somewhat easier to learn how to create an assets Event graph.
Nodes are represented as a block with a heading (the name of the node) and one or many pins. The pins of a Node will be of various colors but there are essentially only two different types of pins.
Both Executable and Data pins can be either an Input or Output pin. Whether the pin is an input or output does not change the type of pin it is, it simply determines how data enters and exits a node through it's available pins. All input pins are aligned to the left side of the node and all output pins are aligned to the right of the node. You might have noticed that the On Components Begin Overlap node only has output pins, nodes can consist of either or both (depending on the node in question).
Executable Pins
Bearing this in mind, a Node's Executable Pins represent this concept implicitly. Executable pins appear on a node as somewhat arrow shaped and it is this arrow that points towards the order of execution.
You can connect node's Executable pins and thereby determine the order of a scripts execution, by clicking and dragging the output executable pin of one node and dropping it onto the input executable pin of another node.
Data Pins
However, what about when you want to pass data as a result of a node's execution from that node to another node? That is when you would need to use a Data pin in conjunction with an Executable pin. How you pass data from one node to another matches the same sequence as connecting executable pins, that is, to connect the output of one data pin to the input of another data pin on another node. However, when making the connection between data pins there are several other factors to take into consideration.
Not all data pins are compatible with each other. Data pins are all of a particular type, and it may not be possible to convert data of one type into another. A pin's different data types are all color coded and it is safe to assume that in most instances connecting an output pin to an input pin of the same color type will result in a valid connection. Some of the data types we will use most often follow,
Red Pins – represent boolean data which will typically have a value of true or false
Light Blue Pins – are of type integer, otherwise known as a whole number (0, 1 , 2, 3 etc)
Green Pins handle Float values or numbers with a decimal point (3.174 etc)
Pink Pins are used for Strings, in other words, literal characters that don't need to be evaluated within mathematical expressions in order to return a value. Often strings will contain letters of the alphabet for example "This is a string value" and so it this "1234abcd".
Of course, there are other data types, but for the purposes of what we are setting out to accomplish an understanding of these four will be more than sufficient for now.
Destroying the StarPickUp
A Network of Nodes
Although we are moving in the right direction, we are not quite there yet as we currently have no score system that is able to track how many pickups our player has collided with and, as a result, what the player's score is.
In order to accomplish this we will need a slightly more complex network of Nodes to replace the Event Graph we currently have associated with our StarPickup. Don't worry though, because although the setup we will be replacing our existing Event Graph with is more complex learning the logic and how to apply this understanding is fundamental to developing many different types of interactions for games. As a result, if you can understand the logic you only need to learn it once then adapt this approach to developing a variety of different types of interactions within your games.
There are a couple of tasks we will need to perform when creating our new node network,
Add a variable to our pawn
Access/Get this variable from the StarPickUp actor
Manipulate the value
Then return/Set the value to replace the old value
Display the new value during game play
In other words we are going to get and set a variable, this is one of the most fundamental concepts of programming.
Working with Variables
Creating the Scoring System
Getting
Setting
Debugging Tools
If at this point you were to test your game you would still not see any visual representation of the player's score. However, this time around although you cannot see a difference, there is in fact, a fundamental difference to the game's scoring system in that the code will successfully be executed.
Debugging in terms of software development relates to the process of removing errors and faults in a codebase. However, some errors might not necessarily be clearly visible when running your codebase and as a result, many development toolkits (Unreal Editor included) will provide tools to assist with this process, by exposing parts of how your application is running and if it's performance is matching your expectations.
One of the debugging tools available to us in Unreal Editor is the Print String node. This node has the ability to display text while the game is running. As this is a debugging node, the text will only be visible while the game is run through the Editor, in other words debugging information is not (and should not) be retained when the game is built for a specific platform.
Coming up
If you have worked your way though the entire series then you have accomplished quite a great deal in terms of getting to grips with a fundamental understanding of working with Assets and the Blueprint Editor to create interactivity with your games.
In the next post we will be looking at developing a health system for the game, as well as adding assets with animation within our game and converting the debugging information to something more useful that our players can see.